Two years ago, I kicked off my career as back-end developer at DTP. Here at DTP, people are so experienced and helpful, which helped increase my experience, confidence, and responsibilities exponentially. I am now responsible for designing, implementing, and testing API services, along with creating algorithms for parsing aviation messages. In addition, I conduct research on the newest technologies that will improve and upgrade DTP's products.
Due to the COVID-19 crisis, we shifted to working remotely from home. It was challenging at first, but, having a great management who communicates regularly and brings positive vibes, we manage to continue working efficiently and productively.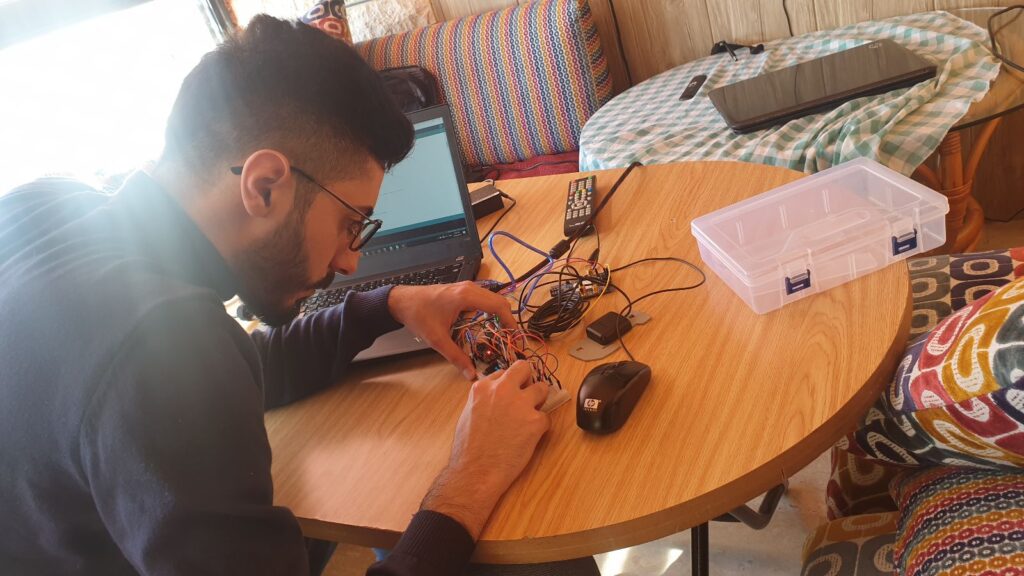 Honing my engineering skills and utilizing them for the benefit of the community
Working from home offered me more time and space to work on new projects that enhance my skills and let me learn more about front-end and back-end development. Moreover, it enabled me to practice my hobby in programming electronic devices using Arduino, an open-source hardware and software ecosystem.
This gradually led to the development of many projects, starting with a simple prototype of a health-oriented smartwatch. It aims to give users the ability to set alarms for medications, measure blood pressure continuously, and trigger an urgent message containing the user's GPS location to a specified number for help.
Another project was a COVID-19 self-assessment website, built with fellow DTPian Mahmoud Fenej and in collaboration with the Lebanese Red Cross, to reduce the load on their call centers from people asking about COVID-19 symptoms. It's a basic website that educates visitors about the risks of COVID-19, with some awareness tips and answers to frequently asked questions approved by the minister of health and the Lebanese Red Cross.
Some tips to nail remote work
Remote work shouldn't be synonymous with making less effort just because you are out of sight. Doing so will have repercussions on your motivation and productivity. Even the clothes you wear carry certain connotations, such as relaxing and switching off versus working. Here are a few simple steps that I follow:
1) Set the alarm as if you're still going to the office, and get in the right mindset by following the same routine you used to do. For example, if you used to exercise or take a short walk before going to work, do so. Shower and change into clean clothing.
2) Keep active and eat well to boost your energy and help your brain function properly.
3) Set your home office in your private room, or at the balcony, if you have a great view of nature.
4) Keep communications open and flowing. Thanks to technological advances, communicating remotely is easier and more accessible than ever.
Here at DTP, we use tools like Google Chat and Google Meet to communicate effectively. We create specific channels or 'rooms' for different projects. Our team leader schedules daily meetings to track progress, assign new tasks, and discuss any challenges.
Be positive and proactive to overcome the crisis
With all the tragic things happening in the world right now, it might seem like an unusual time to talk about being positive. Yet staying positive is a core ingredient for coping with the crisis. Positive emotions boost our problem-solving abilities as well as our judgment, decision-making, cognitive flexibility, and creativity.
Now more than ever is the time for us to be proactive about creating small moments of happiness in our days. For those of us in family lockdown, now is the chance to spend quality time with our loved ones, which we unfortunately took for granted before the crisis.
At the same time, we didn't have enough time and space to focus on learning and developing new skills before. Now we're granted a golden chance and there's no room for excuses to seek self-improvement.
Finally, communicate your experiences with other people. People are significantly motivated by their connections with others, and work is fundamentally social. We are all in this together and we will get through together.