İstanbul Sabiha Gökçen, eighth biggest airport in Europe, continues to invest in digital transformation at full steam. İstanbul Sabiha Gökçen Airport most recently launched the Xovis PTS (Passenger Tracking System) crowd management project in cooperation with Dubai Technology Partners (DTP) and Xovis to plan operations within the terminal and quickly meet passenger needs.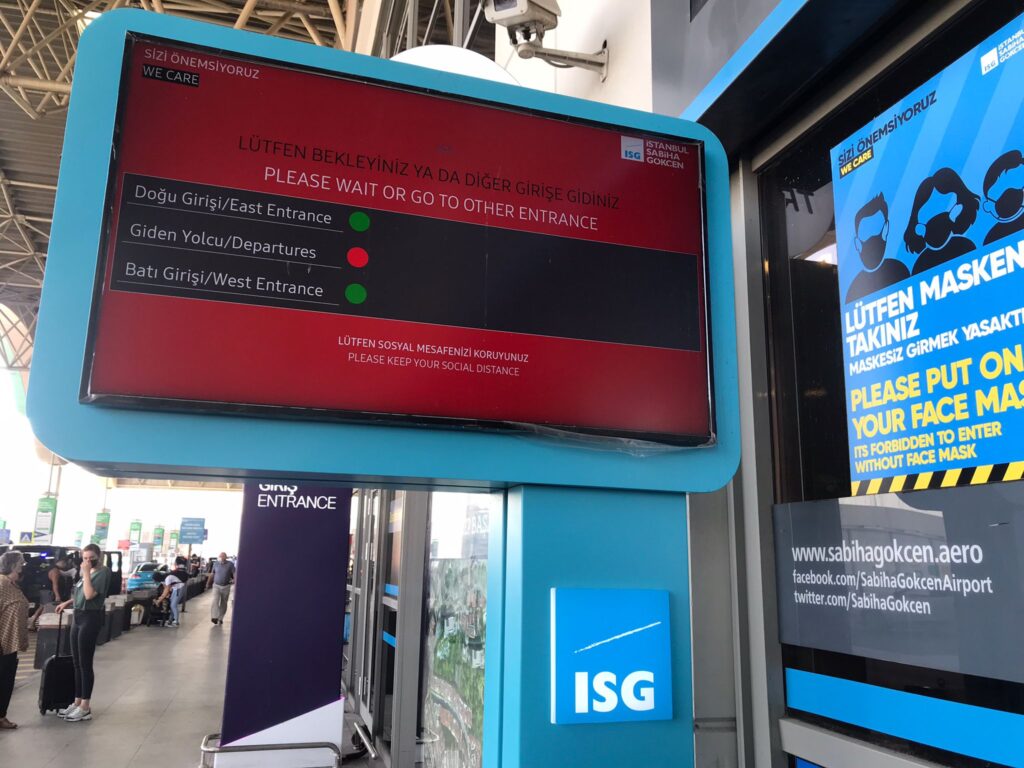 Istanbul Sabiha Gökçen Airport—the eighth biggest airport of Europe in year-end 2020 and the fourth busiest European airport in the first seven months of 2021 according to CAPA data—added a new project to its host of time-saving investments to improve passenger experience through the use of digital solutions in operational processes. ISG developed the Xovis PTS project with Dubai Technology Partners (DTP) and Xovis to help airport teams access real-time data via AI-enabled sensors for better operational control and planning.
The Xovis PTS project uses 184 AI-enabled sensors placed in the indoor and outdoor passenger areas, terminal entrances, common areas, and halls to capture travelers' positions with unparalleled accuracy and deliver easily accessible data in real time to the airport teams. The ISG teams can then use this information to plan resources well in advance, adjust as required in real time, and analyze the efficiency and adherence to service level agreements using historical data.
Berk Albayrak, CEO, ISG, noted that they are working to create the best customer experience by integrating advanced technologies into the operational processes. "At Istanbul Sabiha Gökçen Airport, we continue to enhance our world-class service with new investments. Most recently, we launched the Xovis PTS project in cooperation with Dubai Technology Partners (DTP) and Xovis to provide benefits for both our passengers and airport teams. Using AI-enabled sensors placed across the airport, we can manage passenger flow inside the terminal. Furthermore, providing real-time data flow to our teams will improve the efficiency of our operations. In addition to helping passengers save time by reducing waiting times, this technology also enables us to quickly generate solutions for compliance with social distancing regulations, building on the strict measures we already have in place due to the pandemic."
Abdul Razzak Mikati, Managing Director, DTP, commented: "We are delighted to be a part of the ongoing digital transformation at Istanbul Sabiha Gökçen Airport. We implemented this important project by leveraging our experience and capabilities to help Istanbul Sabiha Gökçen Airport achieve its key performance indicators and take timely action and measures against potential issues in passenger flow."
Andreas Fähndrich, CEO, Xovis, said, "The objective of this data-driven project is to improve customer satisfaction by displaying live waiting times on the screens at the entrances and ensuring a balanced passenger flow between the entrances. Passengers can see their waiting times on the screens that show the occupancy levels at public restroom entrances. This technology can automatically and accurately identify the crowded areas in the terminal."