Dubai, 18 May 2022—DTP and ADVEEZ announced today that they have entered a strategic partnership, combining DTP's pioneering airport operations systems and regional expertise with ADVEEZ's industry-leading ground handling telematics and Internet of Things (IoT) solutions to digitalize and improve the efficiency of airport aprons in the region.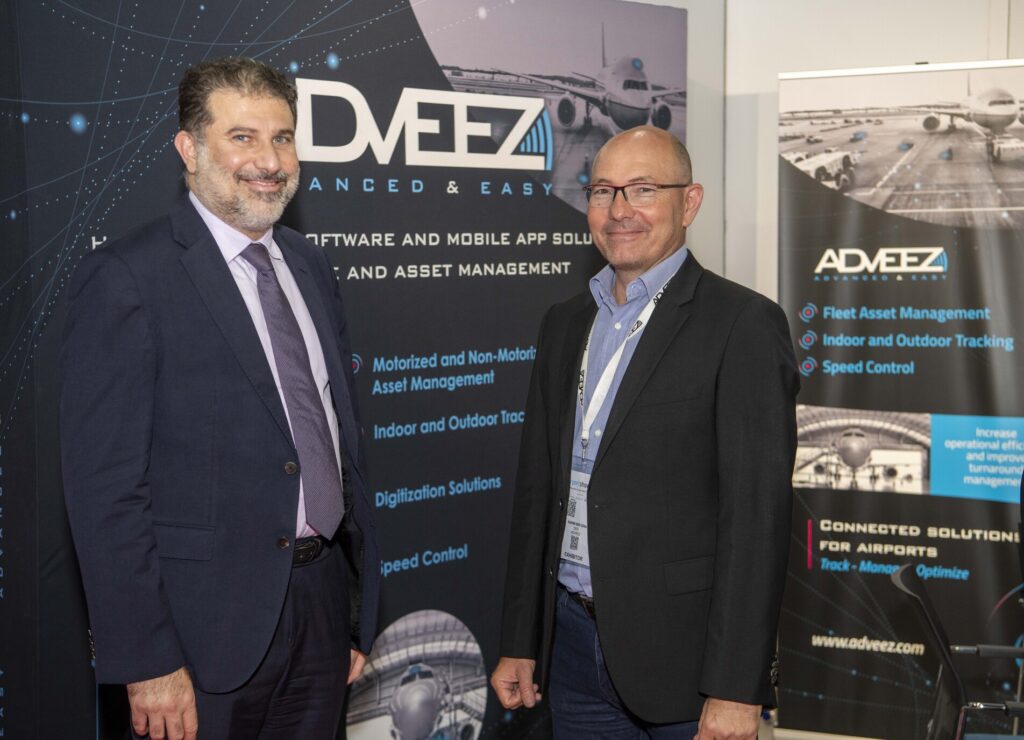 The partnership will enable the integration of ADVEEZ's IoT data into DTP's tNexus airport operations platform to enrich the airside data available to airports and improve or reduce aircraft turnaround times.
"At DTP, we place great emphasis in empowering airports with timely and actionable insights that drive efficiency. Today, we are already offering cutting-edge technologies that strive to bring a collaborative approach between terminal and airside operations. By partnering with ADVEEZ, we can enhance our solutions with data from the apron, such as the availability or non-availability of ground service equipment which can impact the turnaround cycle of flights, to provide a holistic view of airport operations for collaborative decision-making," says Abdul Razzak Mikati, Managing Director of DTP.
ADVEEZ offers an extensive range of IoT solutions dedicated to all mobile handling equipment at airports. Information such as real-time position and any technical data available from motorized or non-motorized equipment is captured and visualized in a birds-eye map of the airport as well as provided in detailed reports and dashboards. The main benefits of the ADVEEZ Localeez® platform are to increase efficiency of apron operations, while creating significant cost-savings for its customers. In addition, ADVEEZ's unique ground safety module ensures automatic speed reductions to vehicles, especially in critical areas such as aircraft stands or inside baggage handling facilities.
Karim Ben Dhia, CEO of ADVEEZ, is looking forward to the partnership with DTP: "We are convinced that DTP and ADVEEZ, two complementary future-oriented technology companies, are joining forces to propel airport operations to the next technological level. Thus, together we are creating massive cost and operation management benefits to customers. Today, ADVEEZ has a very strong footprint in the United States and Europe and a lot of exciting opportunities in the Middle East and Asia. With DTP's local presence, we can jointly offer best-in-class products and services to the aviation world."
About ADVEEZ
Since its creation in 2011, ADVEEZ has been integrating cutting-edge technologies into its connected solutions, thus remaining at the forefront of innovation. Integrating challenges of complex industries environments, ADVEEZ develops a robust telematic and access control solution at each stage of the product's life cycle: from the R&D to distribution, including design, testing and industrialization. Today, ADVEEZ is positioned among the market leaders and provides its customers with ever more efficient solutions. ADVEEZ is recognized worldwide as a telematics system provider of connected objects and artificial intelligence solutions for multiple sectors such as airports, seaports, logistics mobility and safety. ADVEEZ connected equipment and solutions are adopted by 130+ industrial sites and international organizations around the world, especially in Europe, United States and ambitioning to expand its presence in the Middle East and Asia regions.

For more information: www.adveez.com
ADVEEZ Marketing & Communication Manager: Florence LE BRET [email protected], +33768695566.
About DTP
DTP is a technology solutions provider with a comprehensive portfolio of products and services designed to optimize planning and operations in the aviation industry. Established in 2004, it is the leading aviation solutions provider based out of the Middle East and North Africa region. Its cutting-edge aviation platform, tNexus, helps airports, airlines, and ground handlers tackle their biggest challenges in airport operations. It also offers planning optimization, integration, business intelligence, solution delivery, and technical support services. Trusted by some of the busiest airports and biggest airlines in the world, it helps deliver positive experiences to over 114.6 million passengers each year. For more information, please visit dtp.ae.